Sono arrivati ad oltre 800.000 ettari, ma sopratutto la taglia media del campo di mais Bt nelle Filippine e' di solo 2 ettari ad agricoltore: possiamo provarci anche noi?
PH Continues to Expand Biotech Crop Adoption in 2014
Section: News from Around the World
With its Philippine launch of the annual report on the global status of commercialized biotech crops in 2014, the International Service for the Acquisition of Agri-biotech Applications (ISAAA) highlighted the continued expansion of biotech corn in the country.
The Media Conference on the Global Status of Commercialized Biotech/GM Crops in 2014, co-organized with the Southeast Asian Regional Center for Graduate Study and Research in Agriculture (SEARCA), was held on February 27, 2014 at InterContinental Manila Hotel, Makati City. According to the ISAAA report, around 415,000 small and resource-poor Filipino farmers planted an estimated 831,000 hectares of biotech corn in 2014, placing the country on the 12th spot of top countries growing biotech crops. The area increased from 2013's 795,000 hectares of biotech yellow corn, the only biotech crop planted in the Philippines.
Speakers at the conference include ISAAA Chair of the Board Dr. Paul Teng; ISAAA Global Coordinator andSEAsiaCenter Director Dr. Randy Hautea; ISAAA Senior Program Officer Dr. Rhodora Aldemita; and Bukidnon farmer Mr. Edgar Talasan, who expressed his eagerness to plant an upcoming biotech crop, Bt eggplant. Department of Agriculture Assistant Secretary and Bureau of Plant Industry Director Atty. Paz Benavidez II and Academician Dr. Eufemio Rasco also gave messages of support for biotechnology and recognized the contribution of its products to food security. SEARCA Director Dr. Gil Saguiguit, Jr. emphasized support for science-based information and education on biotech in his welcome remarks.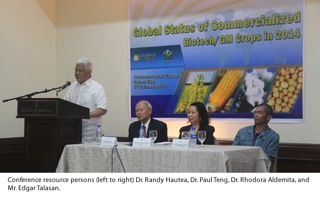 Other updates on biotechnology in the Philippines and in Southeast Asia are posted at the SEARCA Biotechnology Information Center's website. For questions or clarifications, send an e-mail tommav@searca.org or smm@searca.org.
Lascia un tuo commento